By Sarah Kautz, Preservation Director. Special thanks to Julie Greene, Southampton Town Historian and archivist/curator at the Bridgehampton Museum, for her insights on the property's past owners! 
Published March 27, 2020
In our November 2019 blog post entitled, Peter Matthiessen's East End Home-Studio-Zendo, we reported on an exciting new effort to preserve the place where world-renowned author and Zen master Peter Matthiessen (1927–2014) lived for more than 50 years. The six-acre site on Bridge Lane in Sagaponack features a tranquil landscape and three late 19th-/early 20th-century buildings Matthiessen rehabilitated for use as his writing studio, family residence, and the first meeting place of the Ocean Zendo.
We've been digging deeper into the history of this wonderful place and made some interesting discoveries. Evidence from old maps and archives indicate that the three late 19th-/early 20th-century structures were originally constructed as accessory buildings for Deldune, a country house estate associated with the Bridgehampton Summer Colony.
According to Julie B. Greene's Bridgehampton's Summer Colony (2015), Deldune was built around 1900 by E.E. Miller, a co-founder of the Sagaponack Golf Club, who sold the property in 1910 to Dr. Cornelius G. Coakley, a prominent Manhattan surgeon and professor of medicine. In 1930, following the death of his first wife, Annette Perry Coakley, the doctor sold the property to Edward H.H. Simmons, whose six-year tenure as president of the New York Stock Exchange had just ended with the Wall Street Crash of 1929. After Simmons, Deldune was owned by Alexey Brodovitch, artistic director of Harper's Bazaar from 1934 to 1958. He then sold it to Peter Matthiessen in 1961.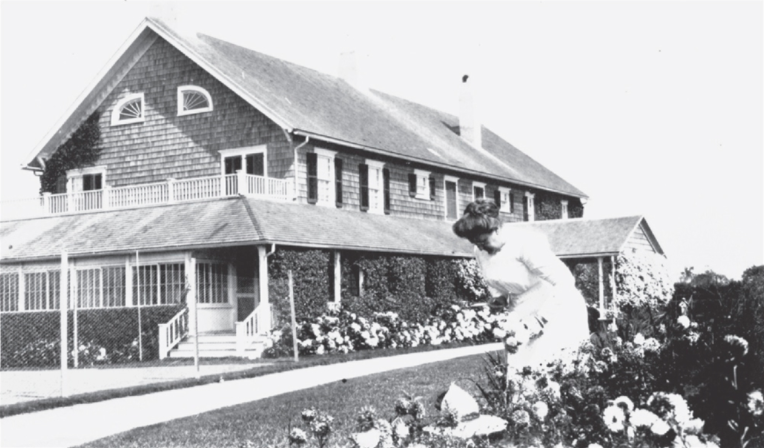 What happened to the main house at Deldune? In a recent email to Preservation Long Island, Julie Greene, Southampton's Town Historian, explained, "Deldune burned down during a heavy snowstorm in March of 1958. The snow impeded the Bridgehampton Fire Department from getting to the house in time to save it. It was a total loss." It is clear that the main house was gone before Peter Matthiessen bought the property, but its accessory buildings survived. Matthiessen later described the property in Men's Lives: The Surfman and Baymen of the South Fork (1986, page 128) as encompassing "six acres, a large decrepit house, an outlying stable and small cottage." Although Matthiessen was wealthy enough to build a new residence, he repaired the "large decrepit house" (Deldune's garage/carriage house), reused the "small cottage" as a writing studio, and converted the "outlying stable" into the Ocean Zendo. These structures remain with us today, connecting the stories of old Sagaponack with Peter's and our own.
The historical and architectural significance of the site's past as Deldune, and its remarkable owners, complement the more recent ties to Peter Matthiessen's life and work, making it an even more important place to preserve. This special place reflects the story of Sagaponack's transformation throughout the late 19th and 20th centuries, evolving from a historically agrarian community into a Gilded Age summer retreat, and then into the village we know today.
Our Preservation Director, Sarah Kautz, continues to work with a group that includes the Peconic Land Trust, as well as Peter's family, friends, and students to develop plans to acquire and preserve the site as the Peter Matthiessen Center. Initial plans envision a 501(c)(3) nonprofit organization with a mission to preserve and celebrate the literary and cultural history of Long Island's East End. Please join us in supporting the Peter Matthiessen Center vision!
In addition to raising awareness and support, there is a lot of work to do for the Peter Matthiessen Center to become a reality. The group's first priority is to raise money to stabilize the existing buildings, form a 501(c)(3), and begin fundraising to purchase the property. Volunteers are also needed to join the effort, especially those with experience in:
•Legal (real estate, not-for-profit formation)
•Fundraising (public, private, grants, major donors, etc.)
•Construction/Adaptive reuse/Preservation
•Marketing/PR
•Accounting/Finance
•Graphic Design
Peter Matthiessen Center Contact Information:
You can make a tax-deductible gift in support of The Peter Matthiessen Center through the Peconic Land Trust online or by mail to Peconic Land Trust, PO Box 1776, Southampton, NY 11969. Please indicate Peter Matthiessen Center when making your donation.
For outreach education, press information, or to volunteer:
info@matthiessencenter.org
Learn more about the ongoing Peter Matthiessen Center preservation effort and the history of the site at our November 2019 blog post: Peter Matthiessen's East End Home-Studio-Zendo